Habitate: verb. to live in an abundant, beautiful & ecologically sound landscape
We are here to help you to create and enjoy the abundance of  your edible landscape.  We provide design facilitation, advice, help with construction / planting, publications and through our nursery the best varieties of food plants for your property.
We hope to inspire you to use Permaculture principles to enhance your landscape by sharing documentation of our PROJECTS
We believe that growing some of our own food at home also contributes to a smart sustainable future by reducing energy used, pollution created and land used for food production. While also saving on food bills. Food gardening with good integrated design and heritage varieties is a very satisfying and creative journey.
Heres what Commercial Horticulture Magazine said about us: http://www.habitate.co.nz/2014/11/04/food-forests-are-a-growing-trend-in-landscaping/
Like us on facebook:
https://www.facebook.com/habitate.edible.habitats
We are based in Waitati, just North of Dunedin in Otago, Te Wai Pounamu, New Zealand, and provide our services to Otago & Southland while sending our trees all over New Zealand.
We enjoy the challenge of growing a lot of our young families food from our quarter acre home property in Waitati.
Jason has been involved in the development of the land which is the home of Habitate Heritage Fruits Nursery and is also a small scale intensive market garden that primarily supplies Taste Nature, Dunedin's Organic Shop with a vibrant seasonal mixed salad. Rory Harding (George St Orchard), Jessie Campion and Mark and Rayna Dickson regularly work on the farm – it's an exciting and progressive group project. We have an open day there mid march, a great chance to try apple varieties and check out Permaculture gardens.
Jason Ross – Owner of Habitate edible habitats
For over a decade Jason has been working in horticulture, permaculture design, heritage fruit tree propagation and small scale organic market gardening.
"I have explored some of the key temperate climate areas of the world looking at organic and permaculture gardens and farms. I am now working to bring the possibilities of abundance and beauty to my home bioregion. I enjoy the relationships gardening fosters with all living things: minerals, plants, fungi, bacteria, insects, animals and people. As well as engaging our own creative potential to produce quality food at our doorstep, using as resources that we often consider to be waste."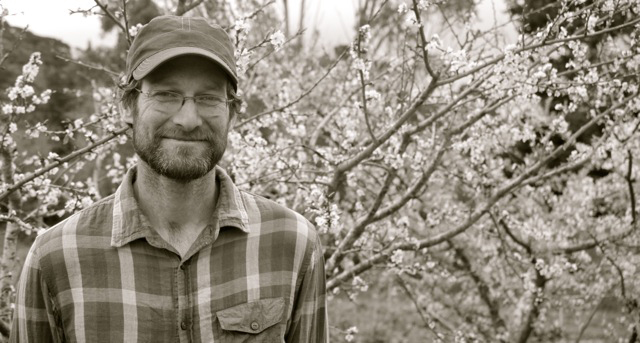 Education: National Certificate in Landscape and Production Horticulture (Level 4 Advanced), Certificate of Permaculture Design and Bachelor of Fine Arts.