Habitate heritage fruits nursery
DELICIOUS & DISEASE RESISTANT FRUIT TREES & BERRY BUSHES
We supply a delicious and diverse range of outstanding fruit trees, berry fruit bushes and companion plants. Most are heritage / heirloom varieties (pre – 1930), more diverse and tasty than most newer varieties which have been bred for industrial systems
Our varieties are perfect for home and lifestyle block – easy to grow and care for, they are all naturally healthy plants
Apples, Apricots, Blackcurrants, Gooseberries, Grapes, Pears, Plums, Quince & Comfrey Plants
FIND OUR ORDER FORM – PACKED WITH IMAGES – AT THE BOTTOM OF THE PAGE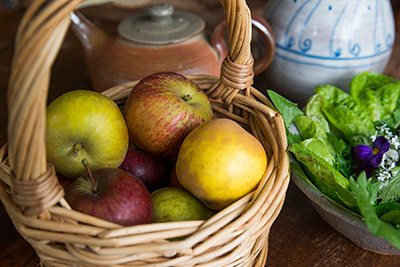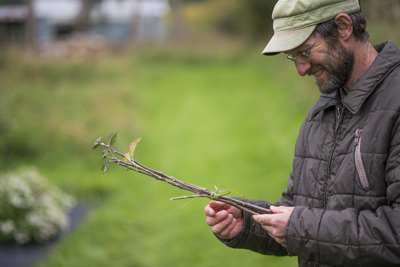 We offer you the best of the best varieties for the home orchard, selected after over a decade of growing and trials for taste, variety of use and ease of growing.
We are based in Waitati just north of Dunedin. All of our plants are suited to growing in temperate areas of New Zealand, and are all known to do well in the south of the South Island – we can make recommendations for specific microclimates in this area.
We are proud to supply high quality organically grown plants. Taking care of the land and the environment – producing top quality plants. Our pip fruit trees and berry plants are certified organic with Organic Farm New Zealand # OFNZ – 1035.
We are a mail order nursery. We deliver our plants bare rooted direct to your door in July and August. Bare root plant delivery provides you with the largest root system and therefore the best start possible for your orchard.
In this interview on Radio Live we talk about selecting disease resistant varieties, the benefits purchasing bare root trees and touch on fruit tree training: http://www.radiolive.co.nz/Habitate-heritage-fruits-nursery/tabid/506/articleID/125779/Default.aspx
"The apples, peaches and plums I purchased from you last year have grown extremely well and I'm very happy with them. I also bought gooseberries and they are thriving too. Cheers."
T. Ashby [Otago]
Whats Available? / To Order
Please see the online order form below and fill all the required fields (your answer). Orders are taken year round for the following winter season.
Sorry the order form is not optimised for smartphones.
Alternatively email us all the required details or give us a call and we can sort out an order by phone, we are happy to help with selecting the best plants for your place:                  jason@habitate.co.nz  /  0272273004
Looking for more detailed info about our fabulous heritatge varieties and rootstocks?
Our Plant Variety Information & Nursery Details PDF is packed with useful information (Note that not all varieties listed here will be currently available)
This is also where you will find details such as our terms and conditions:
PLANT VARIETY INFORMATION & NURSERY DETAILS – CLICK HERE TO DOWNLOAD PDF
Want to know how best to care for your new bare root plants? See our comprehensive guide to planting, training and pruning.
FRUIT TREE PLANTING, TRAINING & PRUNING GUIDE CLICK HERE
Save
Save
Save
Save
Save