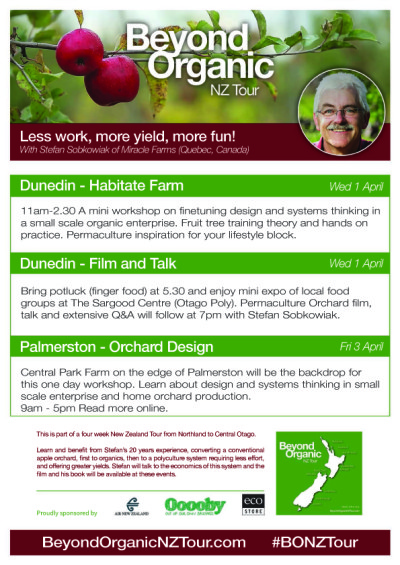 Internationally recognised speaker and orchardist Stefan Sobkowiak is visiting New Zealand from Canada.
An extensive calendar of 20 events has been created, from Northland to Central Otago.
Twenty years ago Stefan bought a conventional Apple orchard outside of Quebec and over the next few years converted it to organics. Seven years ago he re-designed the orchard using permaculture principles while maintaining the commercial focus.  Many people are experimenting with permaculture but Stefan is one of the few who is earning his living from a permaculture property. Last year a feature length documentary "The Permaculture Orchard" was released about Stefan and his orchard, Miracle Farms.
From March 11th to April 5th 2015 he is travelling from Northland to Central Otago leading a series of talks and workshops as part of the Beyond Organic NZ Tour. This is an opportunity to learn how these productive, profitable, permaculture-inspired practices work.
To book / register please go to calendar of 20 events