The main entry path to these enthusiastic and playful food growers home plows straight through the best growing area on the property. In this design a combination of beautiful 'welcome home' gardens, structural and functional evergreen shrubs are employed to keep the entry a pleasure to arrive home to while also offering glimpses of the delicious fresh food growing in raised beds close behind.
Beauty, aesthetics, outdoor living spaces and yes even lawns are important aspects of creating successful permacuture gardens. Because the more time we spend outside enjoying our gardens the more we will also use and harvest from the edible plantings.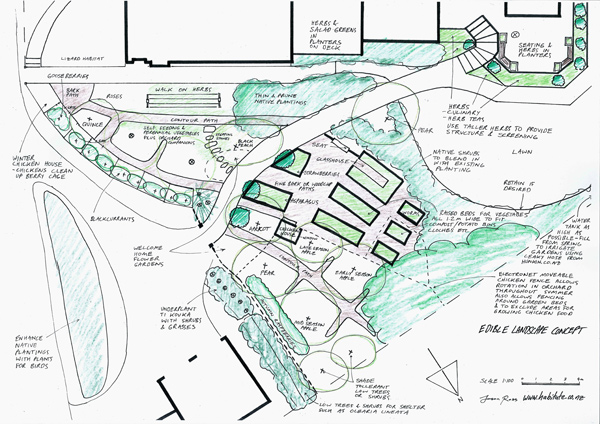 A moveable chicken fence system was settled on, allowing rotation of the chickens through orchard and berry areas, for benefit of both. Chickens will provide maintenance, fertility and eggs, while tilling areas of garden in which some of their own food will be grown seasonally.