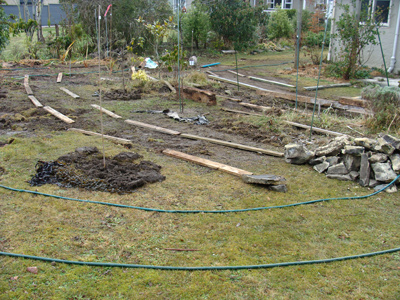 During and initial consult I worked with Ann to create an orchard and path design directly on-site. We used hoses, timber, bamboo and stones to trial alternative layouts. We settled on a series of curved beds containing fruit trees and companion and useful herbs rippling out from the main view point of the house.
"Hi Jason
Thank you so much for your work here on Friday – I feel really excited by the layout & plans. I really appreciated your efforts to ensure I heard you clearly & that you listened so well to what I wanted & together we got to a satisfying result. Now there's the actual creation!
cheers & thanks, Ann."
Waikauaiti, July 2012.
"Hi Jason
Just had to tell you I've eaten my first apples – Discoveries – & they are juicy & delicious. All yr trees are doing v well & have put on amazing growth in spite of me not being able to resist leaving a few apples on several trees!
Hope yr garden & orchard are doing well
cheers Ann." Waikauaiti, February 2013.